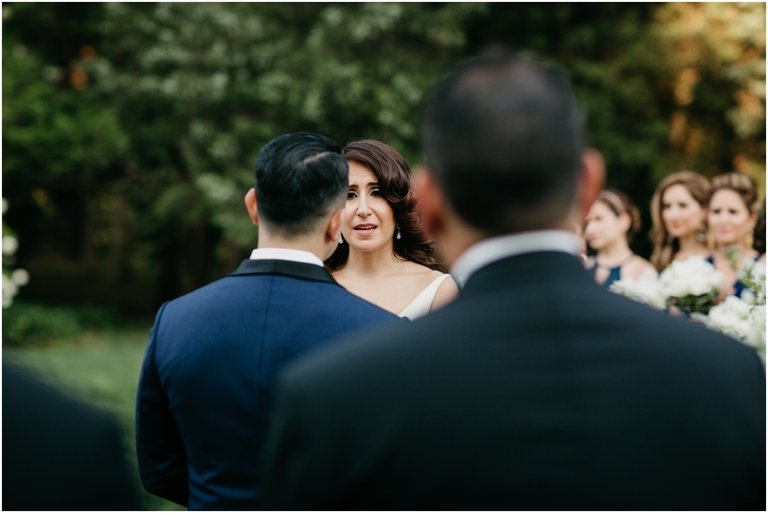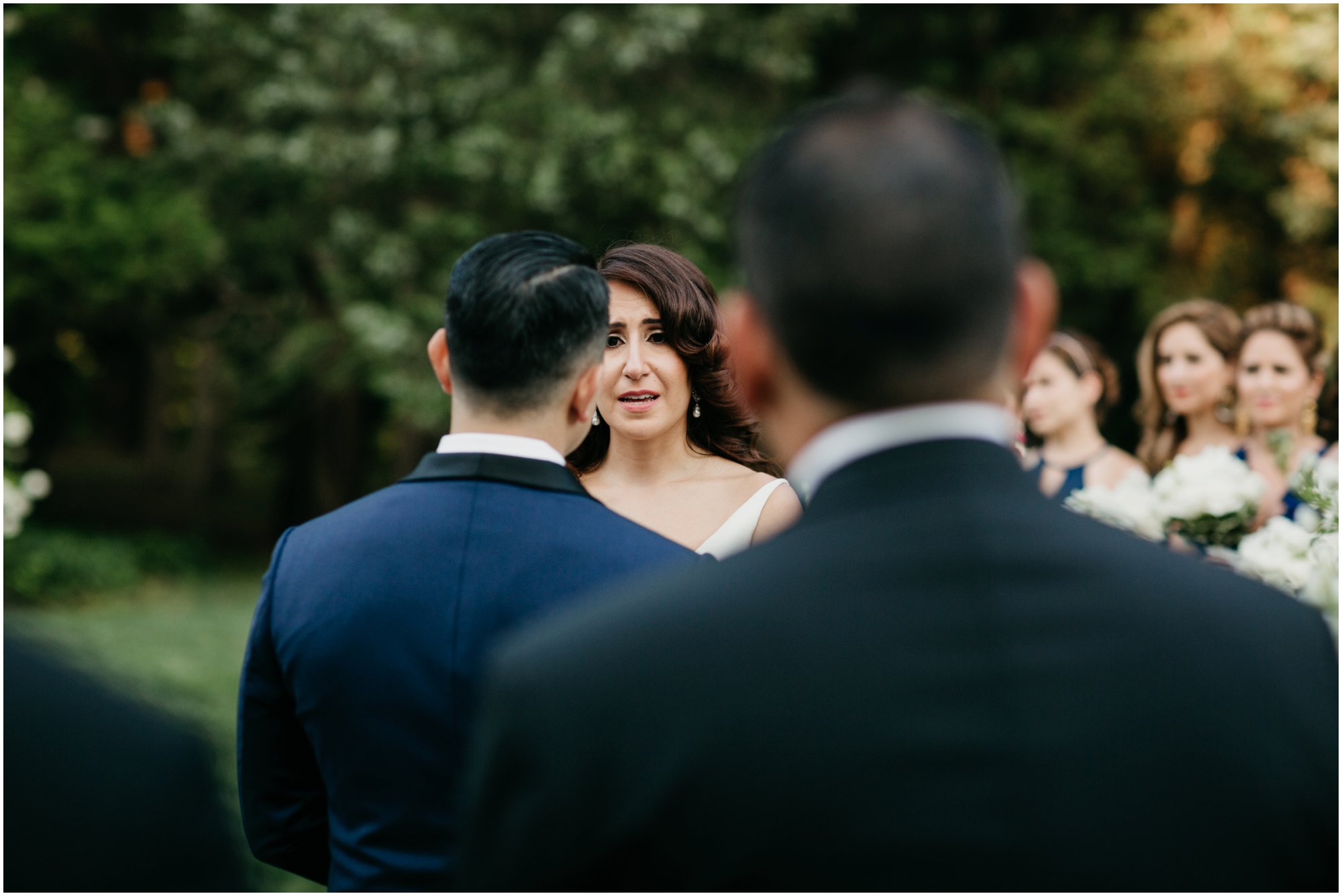 You're getting married. Yay! You've chosen your flowers and found your dream dress, tasted the cake and made a playlist. You're as blissed out as a bunny making flower crowns in a freakin' meadow.
And then… you remember that you're going to have to stand in front of everyone you know and share your most intimate thoughts by pledging your until-death-do-we-part devotion to your future husband. And for some crazy reason that you can't remember right now, you guys decided to write your own vows. Cue the introvert sweats.
First of all, you're gonna be okay.
To help you make sense of this whole vow-writing thing, here's 5 ways that you can personalize your vows without needing to turn the unity candle lighting into a ceremonial hole-digging so you can crawl into it at the altar.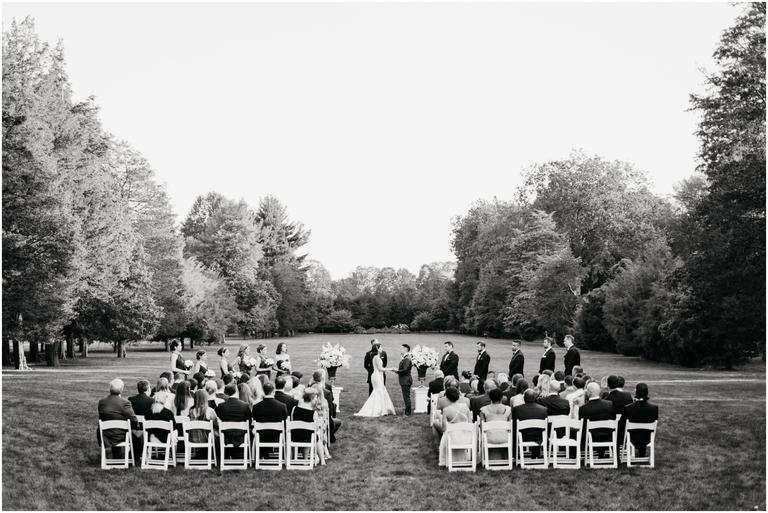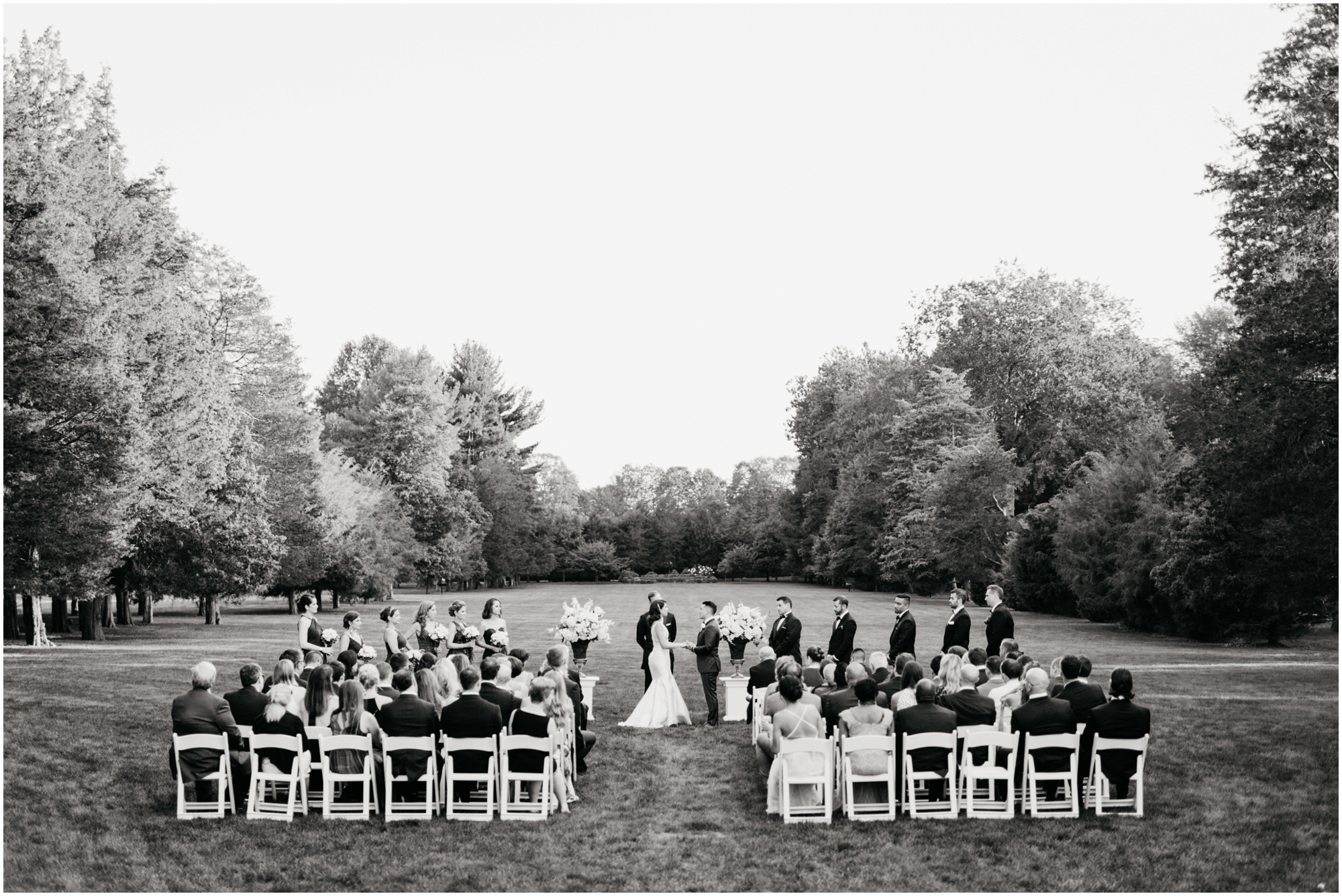 1. Translate the traditional vows.
Have you read the traditional vows recently? Let's take a peek:
I, blah blah, take you blah blah, to be my husband/wife, to have and to hold from this day forward, for better or for worse, for richer, for poorer, in sickness and in health, to love and to cherish; from this day forward until death do us part.
That's a pretty dang good foundation. But maybe some of it still feels a little archaic to you. Like what does "to have and to hold" actually mean? What does it mean to "cherish" each other?
Talk about it.
This is the perfect chance for you two to take a break from all the lace and buttercream frosting craziness, and focus on what these words actually mean to your relationship now and what you want them to mean in the future. Dissect the words, come up with common definitions, and see if a better word will do.
The thesaurus is your bff here. For example, a quick search of the words "have" and "hold" come up with words like "accept" and "enjoy". To accept and enjoy. I like that.
It's possible that once you've taken the time to decipher what these promises mean, you might feel totally comfortable, and actually excited, to use the traditional vows.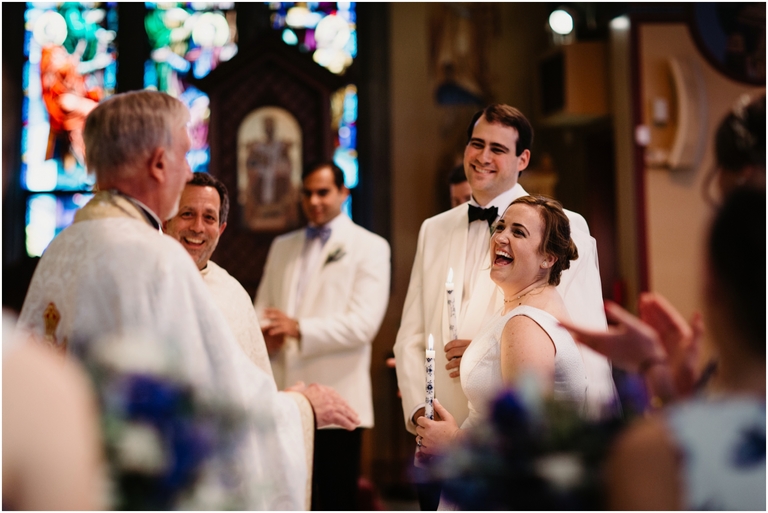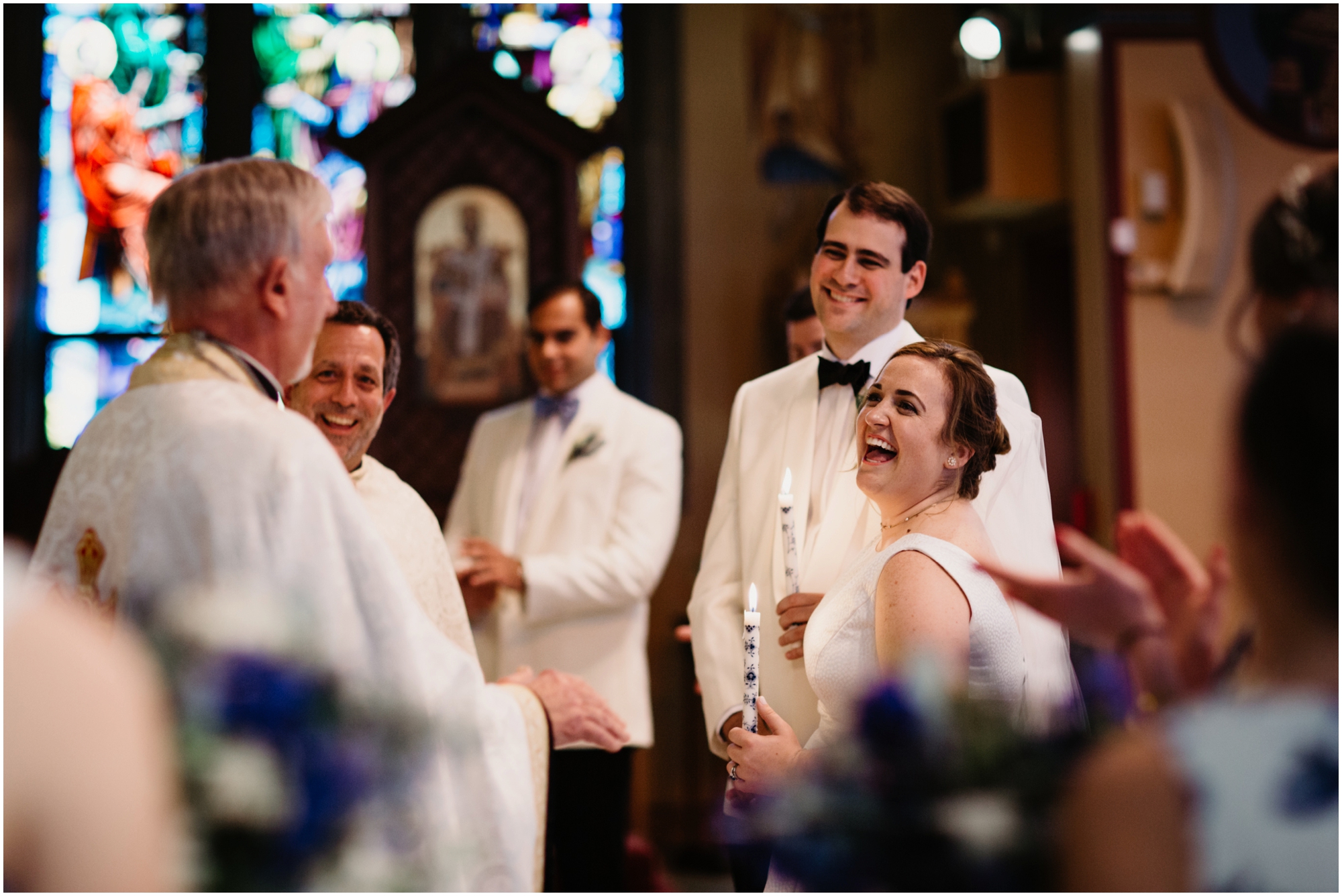 2. Add to the traditional vows.
Maybe after you've translated the traditional vows, you're still wanting to get even more personal. They feel like they're missing something. Your story is way too complex and as deep as the Grand Canyon. You're full of inside jokes and weekend trips and holding each other's hands through stomach bugs and migraines. You've made out on beaches when you were teenagers and have already named your first 4 children. You've got struggles and dreams and so much to your story.
A few words just aren't gonna cut it.
Why not add your own words to the traditional vows?
Angela and Tony did this. They added something like, "I promise to love you in weird ways" at the end of their vows. I still don't know what it means, but I know that it's so important to them and their story and they wanted it in there. Plus the giggles that came with those words showed what a special statement it was between them.
You'll have the comfort of knowing that your vows are thoughtful and actually mean something to you while having the safety of still repeating after your officiant.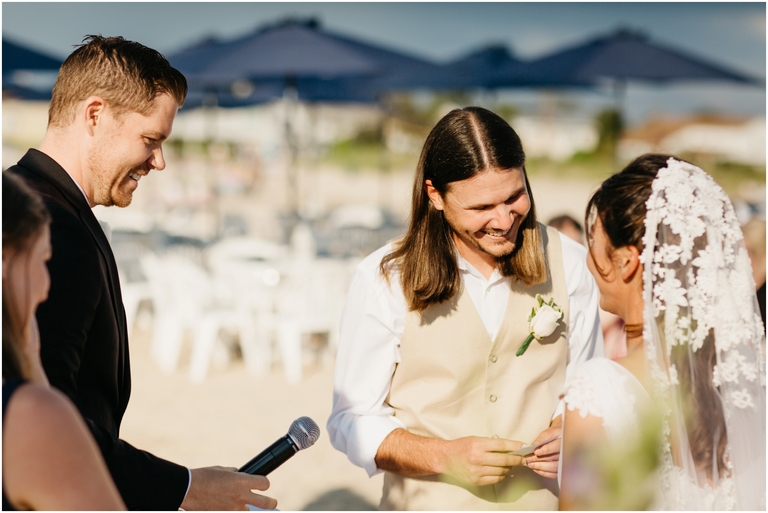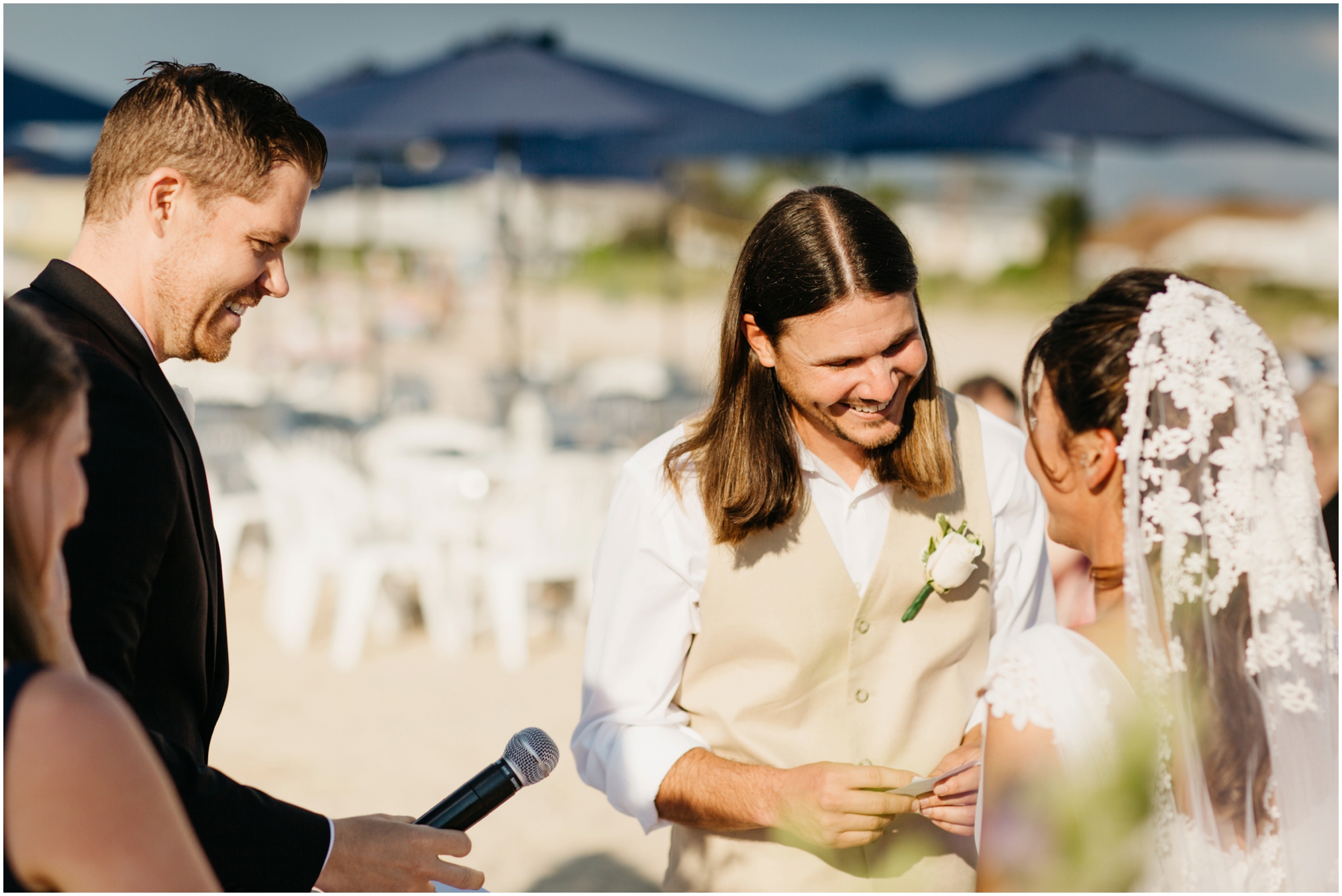 3. Write them separately, but with a purpose.
If you're ready to go totally solo, take a deep breath, and do it. Writing your own vows from scratch and not repeating after an officiant is a great chance to share your heart. Yes, it can definitely feel a little scary, but will be so rewarding.
Before Alex and I wrote our own vows, we decided on a couple parameters. We decided we would only speak for about 2-3 minutes each. We were going to be Christ-centered in our tone. We agreed that we could be light hearted, but should definitely have some seriousness. They were our wedding vows, after all.
Still, he added in things like how he vows to share all his beer with me, no matter how rare the IPA. I mentioned how I love his confidence, like the time he clothes-lined the waitress on our first date.
Decide on what kind of tone you're going to take. Maybe discuss a time or word limit. Have fun with it and get ready for all the feels when you read yours and hear his at the altar.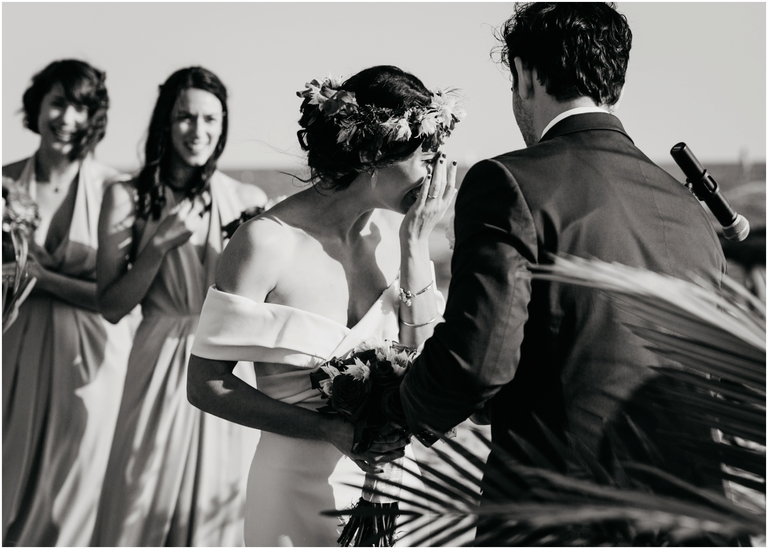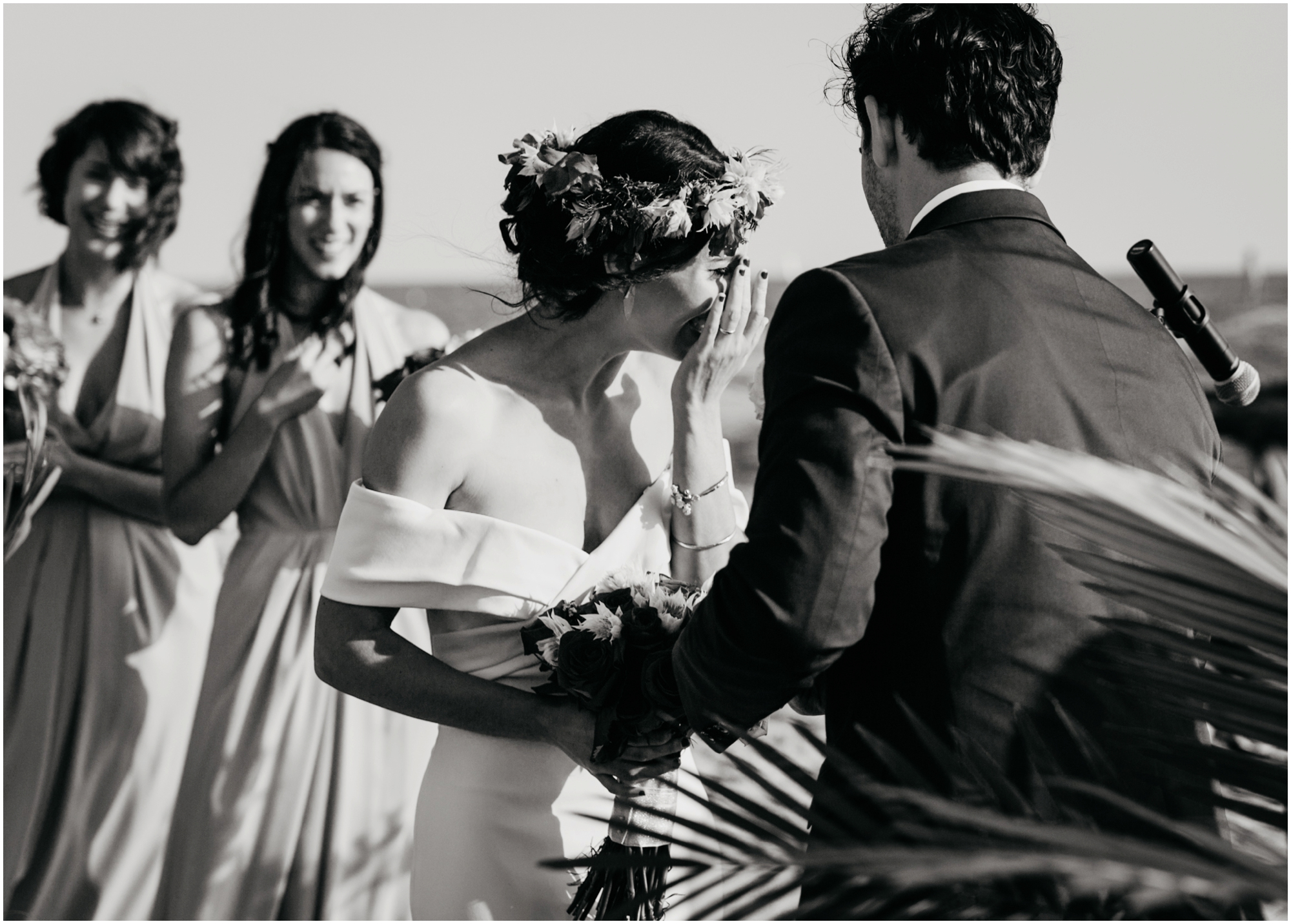 4. Improvise. With Preparation
Yep. Speak from the heart.
Now we wouldn't recommend not putting any thought into it, but some people feel like they are better speakers than writers. If that's you, don't feel bad about it. No one will be judging you on the merit of your poetic talent. Or lack thereof.
Simply write down some notes, maybe an outline or specific points you want to make sure you hit, and go ahead and speak.
While Maysoon wrote her vows out and tearfully read them, Mauricio took notes beforehand but then ad-libbed at the altar. They actually threw out his notes afterwards; Maysoon said the words were forever burned on her heart.
Put yourself in the mindset of it being just you and your person up there. Look at them, and only them, and promise your love.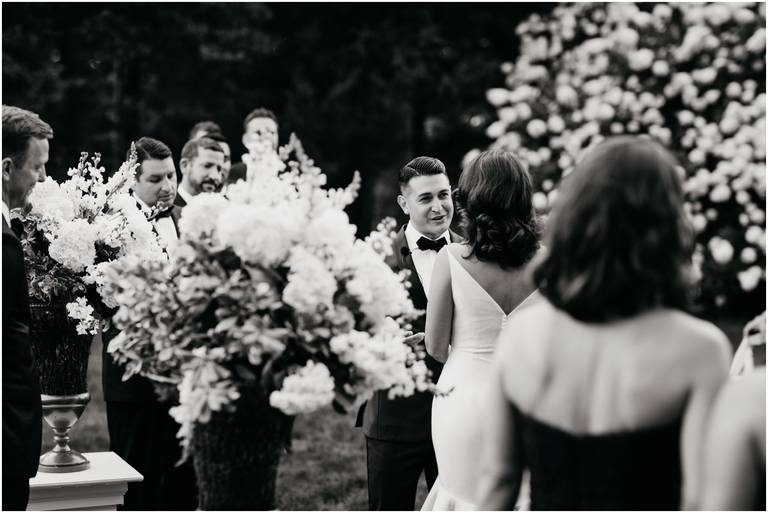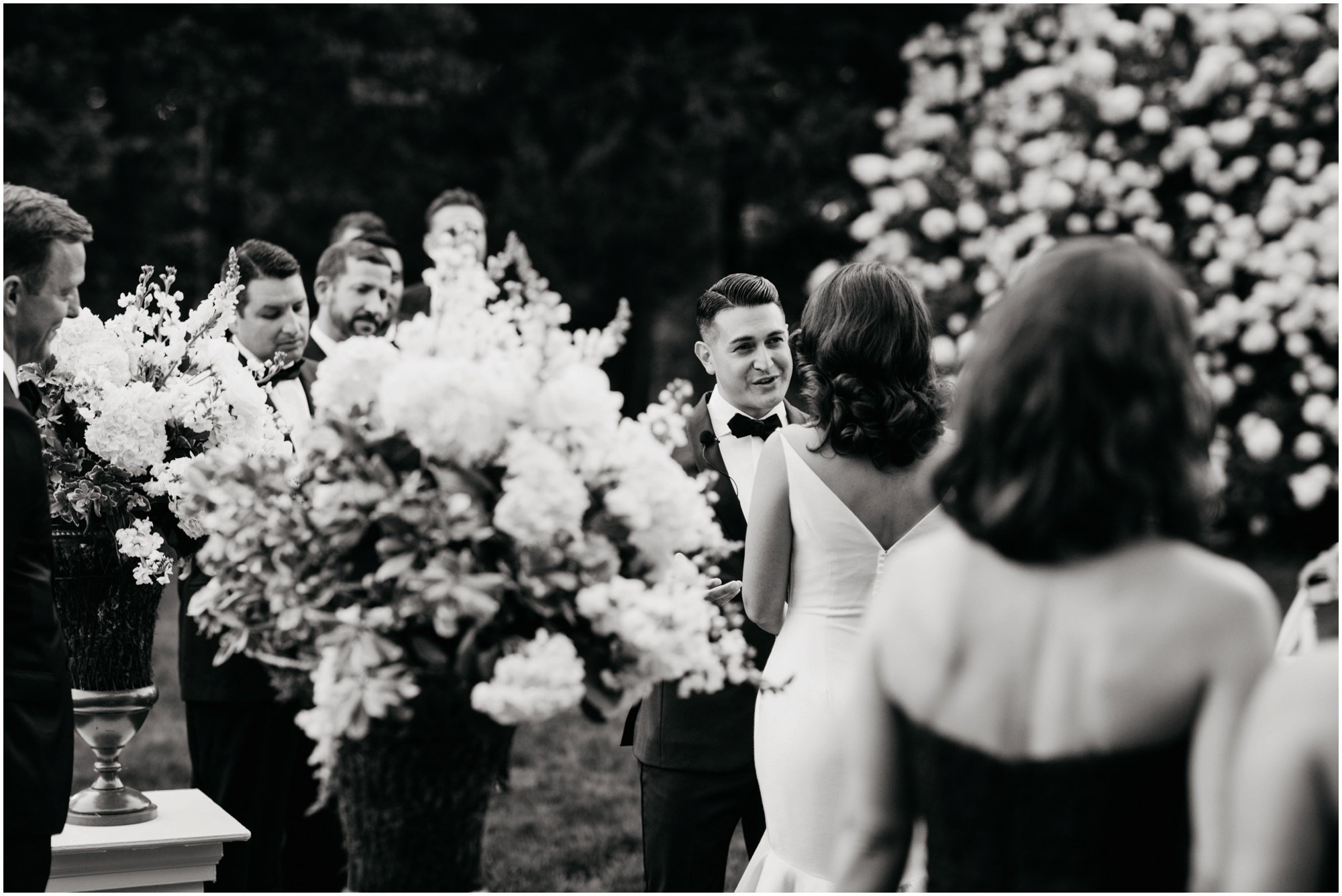 5. Google. Yes. Google. (And Pinterest)
Give yourself permission to research. Search for "wedding vows" on Google and Pinterest. You'll be amazed at how many sites are already dedicated to this very thing.
Read through a couple and take notes. There are vows that mention family, friendship, respect, and comfort. A word or a phrase, or a whole sentence might stand out to you or ping that deep emotion that's related to your relationship. Take pieces and Frankenstein them together. Use this to put together traditional "repeat after me" vows, or write your own.
And it's totally okay. No one is going to stand up in the middle of your ceremony and accuse you of plagiarism. Your conscious can rest, knowing that even if you're using other people's words, your intentions are deeply rooted.
In other words, you'll mean every word you say, even if you didn't craft them yourself.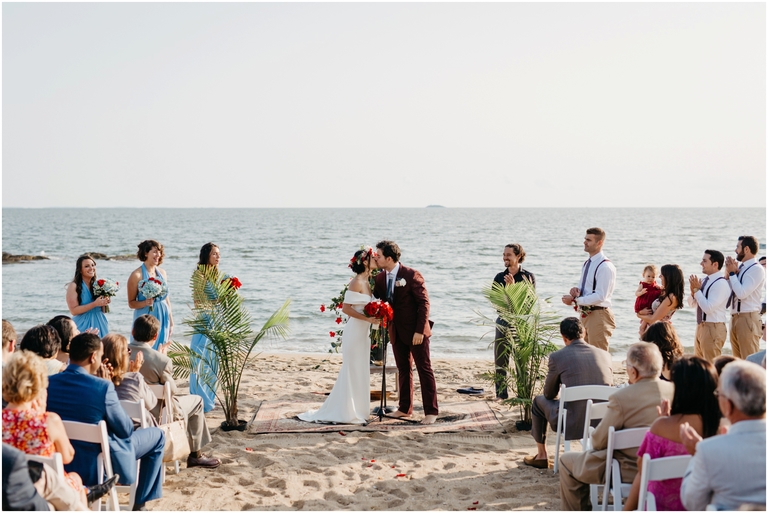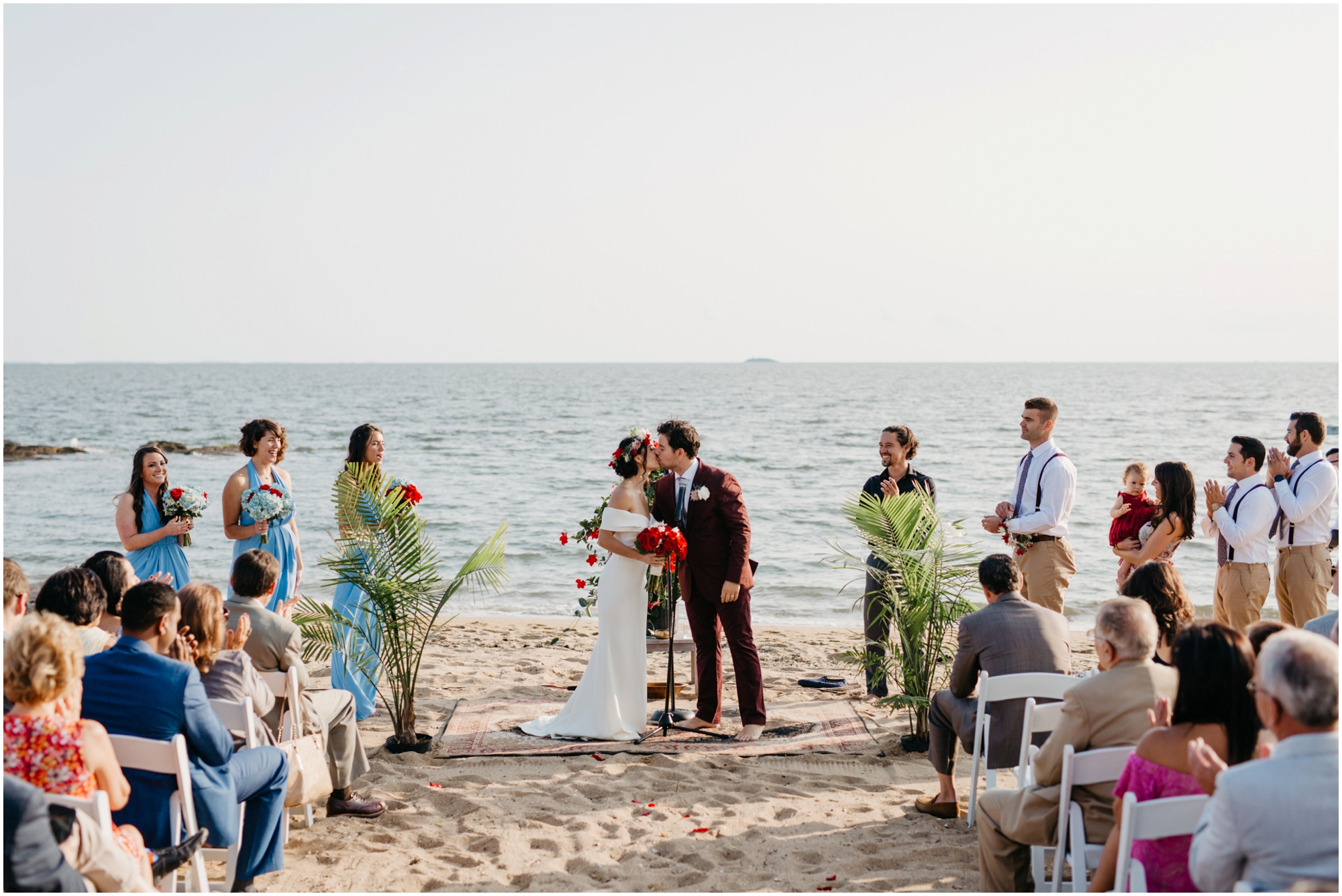 Through all of this, keep in mind what a vow actually is.
It's a solemn promise. A commitment.
Remember, it's not just declaring your love or sharing how the other person makes you feel. Instead, think, "How will I love him and help him grow? How do I want to make HIM feel for the rest of his life?" So long as you're declaring what you're promising to the other person, you've vowed something. Don't overthink it, but definitely take the time to pause and be unified with the direction of your marriage.
If you're craving more wedding advice, make sure to follow us on INSTAGRAM and check out our other posts, like this one on CREATING YOUR IDEAL WEDDING DAY TIMELINE.